Trucking Accidents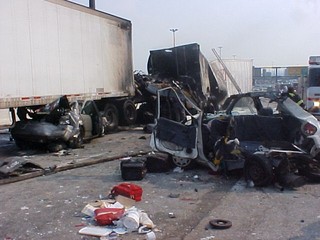 Accidents involving 18-wheelers, tractor-trailers, semi-trucks and commercial vehicles are not just "big" car accident cases, and special training is required for lawyers to tackle the unique liability issues associated with these cases. There are complex laws regulating the trucking industry, including Federal Motor Carrier Safety Regulations (FMCSR). At John Cord Law, we have participated continuing legal education specifically geared toward the trucking cases. In addition, we have litigated several trucking cases–see our verdicts and settlements.
Below are some of the unique issues presented by trucking accident cases: Federal Regulations.
Federal regulations help set the standard of care for truck drivers and their companies. These regulations cover:
Falsification of driving logs
Driver fatigue
Inspection, maintenance and repair of trucks
Background checks of truck drivers
Trucking experts are important to help identify what a truck driver and trucking company did wrong in a collision. Oftentimes, review of the driving logs reveals that the driver was pressured or required to work more than allowed by safety regulations, or that the vehicle may not have had proper inspections or maintenance, all of which could have contributed to the collision.
Truck Technology
Whether there are witnesses to a truck accident or not, technology is important to help piece together why the truck accident happened, and whether it was avoidable. Many trucks carry advanced communication systems, transponders, engine control modules and trip recorders. These technologies can be used in combination to determine truck's exact route and time at any particular destination, communication between the driver and the company. Based on that information, the truck's speed can be determined, and it is useful evidence in determining whether the truck driver was driving for more hours than allowed by federal law.
Learn More
For more information on Maryland Trucking Accidents, please click on the following:
For more information on the Federal Motor Carrier Safety Regulations, see 49 C.F.R. 390, et seq .